I don't know about other writers, but one of the most challenging pieces of writing I do is the back cover book blurb or Amazon sales page book description. Friday, some of the pain was taken out of the task when writer friend, Victoria Hermes-Bond, (Vicki) visited, and we spent the morning brainstorming blurbs for our upcoming novels.
The first book in Vicki's Women of Reflection Parkway series is Rolling the Dice, a contemporary novel about a group of friends who support each other through life's challenges.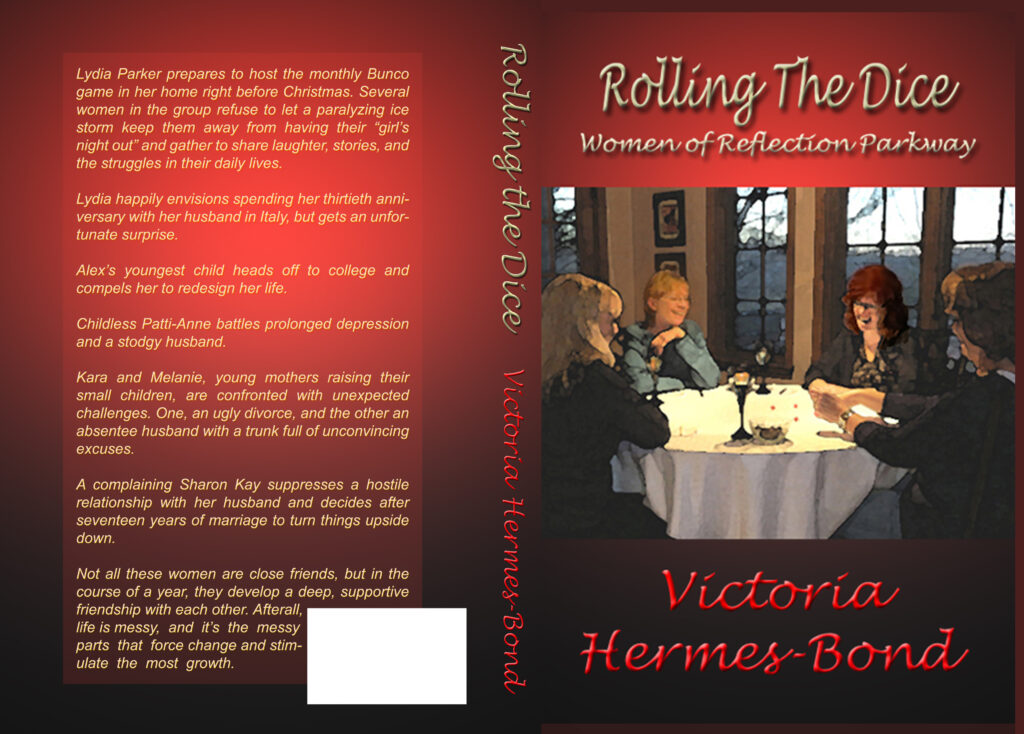 Vicki is currently preparing the second book in the series, Long Highway Home, for publication later this year. But, of course, before a book can be published, a cover with a book blurb on the back is needed. Since I am also preparing a new novel for publication at the end of October, it made sense for us to get together and brainstorm.
When we met at my place, we each had general ideas of what we wanted to say. What both of our descriptions lacked was a headline that would grab our readers' attention and indicate what each book was about.
We tackled Vicki's description first. Long Highway Home centers on two of the women who lived on Reflection Parkway and became good friends at regular neighborhood Bunco games. Life has changed drastically for these women since the first book. Below is the description without the headline.
Original description minus minor tweaks
Alex Webster wrestles with empty nest syndrome after her youngest daughter heads to college. Her husband, Jim, a successful corporate lawyer, dismisses her plight, so Alex goes on sabbatical. Only she forgot to clue her husband in. What she hoped to be an opportunity for personal growth has created changes she never envisioned. And then there's Sam, an old-fashioned truck driver, who apparently has become her new confidant.
Also, her dear friend Lydia Parker, a recent widow, travels to Italy as a foreign exchange student and meets Lorenzo, the faculty chef. A romance blossoms until Lydia discovers he seems to be hiding something. If there's one thing she can't tolerate in a relationship, it's secrets. Her now deceased husband, Cole, harbored a huge secret that almost destroyed her.
Surrounded by the love and support of the other Bunco Queens, Kara, Patti-Anne, and Sharon Kay, these women navigate the messiness of their lives. After all, friendships are the glue that hold us all together.
Searching for that single sentence that tells what the book is about
Vicki and I began batting around ideas about what common problem these two women shared. Here is what we came up with:
Can two women whose marriages have gone sideways resolve their trust issues to embrace a happier, more fulfilling future?
Still tweaking
The problem with being an editor is that I am always asking "What if?" In this case, what if the headline was a statement instead of a question? Which is more effective? Let's see:
Two women whose marriages have gone sideways work to resolve their trust issues and embrace a happier, more fulfilling future.
What do you think?
We'd love to have you weigh in. That's what brainstorming is all about: sifting through lots of ideas to come up with the best statement possible. Do you think the question or the statement is more effective? Do you have a totally different suggestion? Please comment.
Note: I had originally intended to include the brainstormed version of my book blurb for The Hunt, my new serial killer novel, but this post is longer than I anticipated, so I will save my blurb for the next post.