Books to Improve Your Writing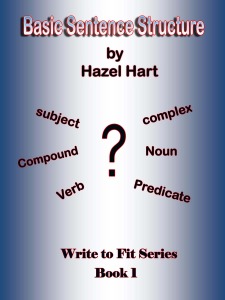 Recognize sentence patterns and
prevent fragments and run-ons.
Basic Sentence Structure addresses two of the top ten most frequent punctuation errors and tells how to recognize and correct them. The book is for students and other beginning writers who see the words "run-on sentence," "fragment," or "comma error" filling the margins of their written work and want to eliminate these errors. Writers who are not native English speakers may also find Basic Sentence Structure useful in recognizing and eliminating errors in sentence structure.
Click here to buy on Amazon.
Avoid dull, choppy sentences by adding phrases.
BASIC SENTENCE ADD-ONS: PHRASES is an introduction to the definitions and uses of prepositional and verbal phrases. The purpose of this second book in the Write to Fit series is to help readers understand the various kinds of phrases and use them correctly to add variety and detail to their writing.
Read to Enjoy: Suspense Fiction
Not everyone has a merry Christmas.
It's Christmastime and Wes Myers prays to Jesus, asking for help in reconciling with his wife, Betty, so he can keep her from teaching their children pagan beliefs. His prayers are answered. Then Wes loses his job andreaches for a bottle of vodka first and the Bible second. On Christmas Eve, Jesus speaks to Wes again. The message is chilling. If you've ever wondered why a woman stays with an abusive husband, or why a father would kill the child he loves most, then you must read the story of Betty and Wes and what happened on The Night before Christmas.
Click here to buy this e-book on Amazon.
A locked house. . . a strangled woman. . .
Town gossips say the sister did it.
Five years ago, Bertha Sands died in a fire caused, according to the official investigation, by a cat knocking over a lighted candle. The citizens of small town Sands City had their doubts. Now, eccentric daughter, Iris Sands is found strangled in her kitchen. All the fingers—and even some evidence—point to sister Crystal as the assailant. Can she prove her innocence without causing an even bigger scandal that will bring shame on her family name?
Click on this link to buy the e-book on Amazon.
Has Sara's friendship with a psychic healer resulted in demonic possession?
Sara Kramer, who doubts everything, is pursued by two men of opposite but equally strong faiths: Garth Drummond, a New Age psychic healer and Junior Lawson, a fundamentalist preacher. When Sara refuses the preacher's proposal, he blames the psychic healer. Believing the psychic has put a curse on Sara and she is now possessed by demons, the preacher vows to rid her of them, no matter what laws he has to break.
Click here to buy this e-book on Amazon.
Young Adult
Is Kindra's new family really hers or an FBI lie?
Government agents raid sixteen-year-old Kindra's mountain home and arrest her father for gun trafficking,  During the FBI interrogation, the agent tells Kindra the father she loves is a liar who divorced her mother and kidnapped Kindra when she was a toddler. Her birth mother has come for her. Who lied: her father or the government agent? Kindra's mind whirls with questions as she is whisked away to a new home and family that includes three younger sisters who have just learned of her existence.
Click this link to buy this e-book on Amazon.
A Look Back in Time: Historical Fiction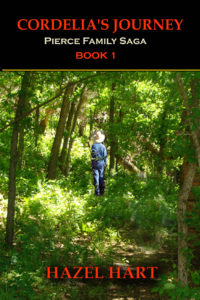 An abusive stepfather. . .a dying mother. . .
A loving daughter who tries to save her
Kansas Territory, 1855
Fearing her mother will die in childbirth, thirteen-year-old Cordelia disguises herself as a boy and sets off on foot to seek help from her aunt 150 miles away in Westport. Following the Kansas River, she hitches rides with a variety of travelers, faces setbacks, and learns lessons about the world and her place in it.
Click this link to buy the e-book on Amazon.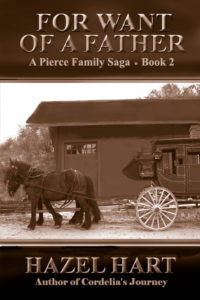 Fathers, daughters, and expectations
In 1859, half-sisters Lucy and Cordelia travel by stagecoach from Westport, Missouri to Kansas Territory. Since their mother's death four years ago, both have lived with their aunt. Now Lucy's father wants her home. For Lucy, 13, it is a dream come true. Cordelia, 17, chaperones Lucy on the trip home, then continues on the stage to Denver to search for the father she has never met. Her expectations are low, but she can't stop the occasional dream. Will either father live up to his daughter's expectations, or will each break his daughter's heart?