Yesterday, I took a look at how writer friend Victoria Hermes-Bond (Vicki) and I brainstormed the book blurb for her upcoming novel, Long Highway Home. Today, I will continue the story with my own soon to be published book, a standalone serial killer novel I am currently calling The Hunt. I also thought of calling it He's Back. Everything except the story itself is still in flux. Even so, I thought a possible book cover would make this page more interesting, so let me know what you think of this one.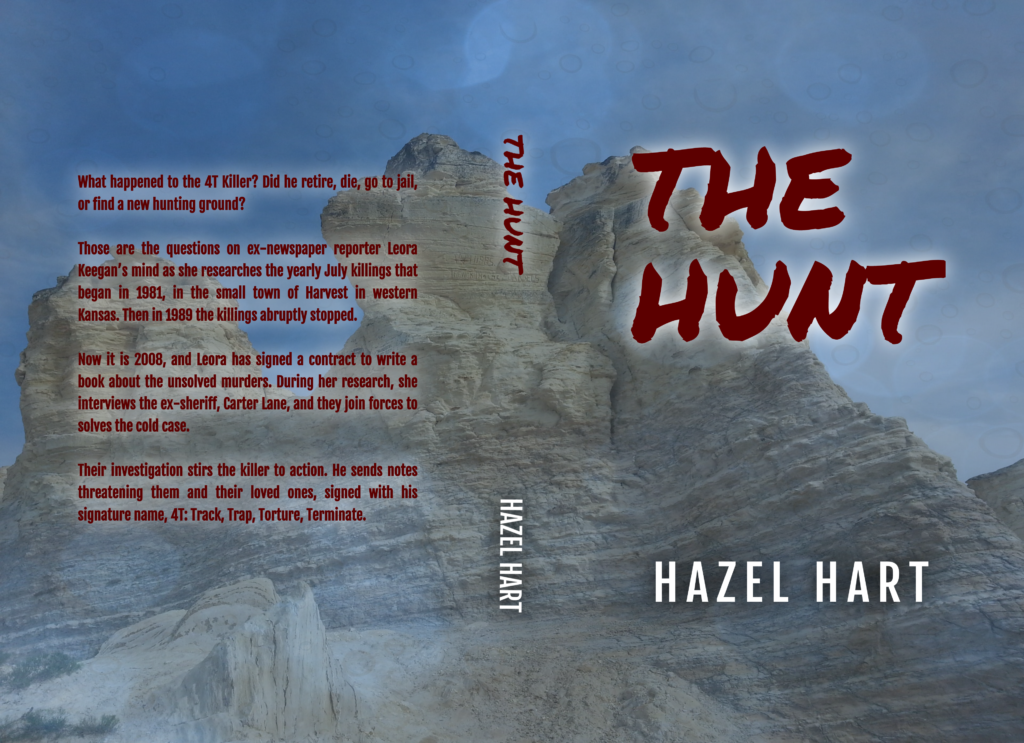 Don't strain your eyes to read the back cover. I've included the copy below.
Original rough draft
Before Vicki and I met for our brainstorming session, I wrote the following rough draft:
Every July from 1981 to 1989, someone was murdered in the small western Kansas town of Harvest. The last murder was the sheriff's wife. Then the killings stopped. Sheriff Carter Lane lost both his job and his wife. People whispered that he was the killer.
For nineteen years there were no more murders. Then, as the twentieth anniversary of the killings neared, retired newspaper reporter Leora Keegan got a contract to write a book on the unsolved murders. Leora never believed Carter Lane was the killer, so not only does she interview him, but they decide to work together on solving the crimes. Only days into the investigation, they begin receiving threats to their lives and those of their loved ones.
Can they identify the killer before he strikes again?
Revision process
We started our discussion with the usual questions:
What's in?
What's out?
What order?
What's the best word choice?
What's the best sentence to capture a reader's attention? (I'm still fretting about this one.)
After a lengthy discussion, we came up with the following:
Revised blurb
What happened to the 4T Killer? Did he retire, die, go to jail, or find a new hunting ground?
These are the questions on ex-newspaper reporter Leora Keegan's mind as she researches the yearly July killings that began in 1981, in the small town of Harvest in western Kansas. Then, in 1989, the killings abruptly stopped.
Now it is 2008, and Leora has signed a contract to write a book about the unsolved murders. During her research, she interviews the ex-sheriff, Carter Lane, and they join forces to solve the cold case. Their investigation stirs the killer to action. He sends notes threatening them and their loved ones, and signs them with his signature name, 4T: Track, Trap, Torture, Terminate.
I admit
Okay, the words on the back cover of my sample are not identical to the revised version above. While I was working on this post, I thought of a phrase I thought worked better, so I made a change. Isn't that what writing is all about: working through first thoughts and refining them until they shine?
Your thoughts
As I said at the beginning, everything, including the title, is a work in progress.
Which title do you like best: The Hunt or He's Back or something else?
Is there something in the blurb that could be improved?
My plan is to publish the book by October 31, 2022, but If you have any suggestions before then, please leave a comment.